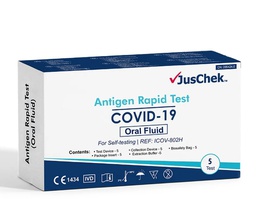 JUSCHEK SARS-COV-2 ANTIGEN RAPID TEST (ORAL FLUID) INCP-502H SELF (RAT) SALIVA TEST 5 PACK
TGA certified (Instructions for use here on TGA website).
Contents:
Fast test results within 15 minutes
– 1 x test cassette
– 1 x swab
– 1 x extraction tube with included extraction buffer
– 1 x Extraction Tube Lid
– 1 x disposable pressure bag for disposal
– 1 x user manual
Individually packed
Minimum order 10 units | Maximum order 480
The SARS-CoV-2 Antigen Rapid Test (Nasal Swab) is a lateral flow chromatographic immunoassay single-use test kit intended to qualitative detect the SARS-CoV-2 that causes COVID-19 with self-collected nasal swab specimen. The test is intended for use in symptomatic individuals meeting the case definition for COVID-19 within the first 7 days of symptom onset.
Results are for the detection of SARS-CoV-2 Nucleocapsid protein Antigens. An antigen is generally detectable in upper respiratory specimens during the acute phase of infection. Positive results indicate the presence of viral antigens, but clinical correlation with patient history and other diagnostic information is necessary to determine infection status.
Positive results are indicative of the presence of SARS-CoV-2. Individuals who test positive should self-isolate and contact your State or Territory Coronavirus testing services to get a laboratory PCR test. Positive results do not rule out bacterial infection or co-infection with other viruses. Negative results do not preclude SARS-CoV-2 infection. Individuals who test negative and continue to experience COVID-like symptoms should seek follow up care from their COVID testing centre.
he SARS-CoV-2 Antigen Rapid Test (Nasal Swab) obtain a preliminary result only, an aid diagnosis of COVID-19, for the final confirmation should be based on clinical diagnostic results.
The SARS-CoV-2 Antigen Rapid Test (Nasal Swab) is intended to be used by laypersons as a self-test for home and workplace (in offices, for sporting events, airports, schools, etc.).
SUMMARY
The novel coronaviruses belong to the β genus. COVID-19 is an acute respiratory infectious disease. People are generally susceptible. Currently, the patients infected by the novel coronavirus are the main source of infection; asymptomatic infected people can also be an infectious source. Based on the current epidemiological investigation, the incubation period is 1 to 14 days, mostly 3 to 7 days. The main manifestations include fever, fatigue and dry cough. Nasal congestion, runny nose, sore throat, myalgia and diarrhoea are found in a few cases1.
PRINCIPLE
The SARS-CoV-2 Antigen Rapid Test (Nasal Swab) is a qualitative membrane-based immunoassay for the detection of SARS-CoV-2 nucleocapsid protein antigens in human swab specimen
PRECAUTIONS
Please read all the information in this package insert before performing the test.
• For self-testing in vitro diagnostic use only.Do not use after expiration date.
• Do not eat, drink or smoke in the area where the specimens or kits are handled.
• Do not drink the buffer in the kit. Carefully handle the buffer and avoid it contacting skin or eyes, rinse with plenty of running water immediately if contacting,
• Store in a dry place at 2-30 °C (36-86 °F), avoiding areas of excess moisture. If the foil packaging is
damaged or has been opened, please do not use.
• This test kit is intended to be used as a preliminary test only and repeatedly abnormal results should be
discussed with doctor or medical professional.
• Follow the indicated time strictly.
• Use the test only once. Do not dismantle and touch the test window of the test cassette.
• The kit must not be frozen or used after the expiration date printed on the package.
• Keep out of the reach of children.
• Test for children and young people should be used with an adult.
• Small children under the age of 16 should be swabbed with the help of a second adult.
• Wash hands thoroughly before and after handling.
• Please ensure that an appropriate amount of samples are used for testing. Too much or too little sample
size may lead to deviation of results.
Store as packaged in the sealed pouch at room temperature or refrigerated (2-30 °C). The test is stable through the expiration date printed on the sealed pouch. The test must remain in the sealed pouch until use. DO NOT FREEZE. Do not use beyond the expiration date